If you are getting an "
Error during Main Startup
" or "
Fatal EazyFlixPix Error
" error when running EZFP, it's likely due to the program not being installed with Admin privileges or the user not being an Admin on the computer they're running it on.
The program requires read/write access to the folder it's installed in to access the database and even just to download new versions of itself...which it can't do if the user doesn't have write access to the folder. For security reasons, EZFP cannot change those settings, an Admin must do it.
Possible Solutions:
1) Login as an Admin that has full privileges
OR
2) Have an Admin set the security persmissions to
Full Control
for the '
Program Files\EazyFlixPix\
' folder
- right-click the folder and choose Properties
- select the Security tab
- select the Users group at the top
- click the "Edit" button and enable full-control or at least read/write access.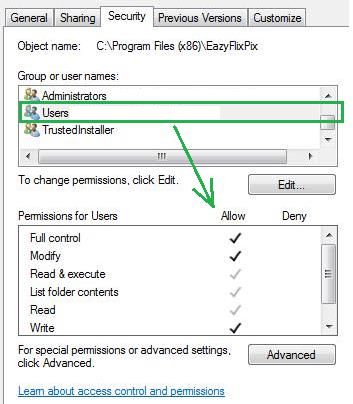 OR
3) This solution was submitted by a user who had a similar issue. He was an Admin, but for some reason it still didn't run correctly, but changing the compatibility settings for the .exe made it work.
- right-click the EazyFlixPix.exe and choose Properties
- select the Compatibility tab
- check the compatibility mode and choose XP3